5 Big Reasons Why You Should Choose zipDJ as Your DJ Download Service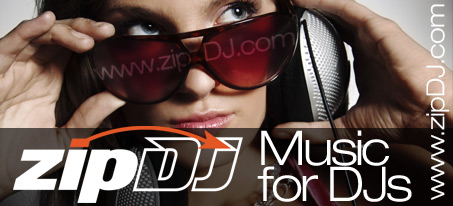 zipDJ is a cutting-edge DJ download pool that legally distributes upfront promotional releases to tastemaker DJs in North America. Serviced by over 400 major and independent record labels both nationally and internationally, zipDJ offers an extensive music catalog in a variety of genres. Looking for a DJ download pool that will give you access to the hottest releases and enable you to stay ahead of the curve? Here are 5 big reasons why you should choose zipDJ as your DJ download service.
1. An easy to use, state-of-the-art website
zipDJ's state-of-the-art website is easy to navigate and offers 24/7 tech support. The DJ download website is compatible with both PC and Mac formats and has advanced filtering features that enable you to search and sort music by artist, song, label and genre. On zipDJ, you can easily view the details of each release, and preview each mix individually. The Download Manager enables you to queue your tracks and gives you the option of downloading tracks one at a time or together in one .zip file. Furthermore, you don't ever have to leave the page you are on in order to download music, thanks to zipDJ's direct downloading feature.
2. A one-stop shop for all of your DJ download needs
zipDJ doesn't only provide DJ download services. The zipDJ website provides tons of added value: a personal web page, world charts, bulletin board where you can post messages, label information, and hardware and software manufacturer information. In addition, the zipDJ RSS feed keeps members informed of the latest releases.
3. An extensive music catalog in a variety of genres

The zipDJ DJ download service features an extensive music catalog in a variety of genres, including rock, pop, dance, urban, Latin, and country. The site caters to club, radio, live-to-air, and mobile DJs and distributes new music on a promotional basis, sometimes weeks or months ahead of normal release timelines. zipDJ is serviced by a growing list of over 400 major and independent record labels worldwide and offers hundreds of new releases on a monthly basis.
4. Legal and legitimate
The marketing and promotion of music has suffered considerably because record labels have had to slash their promotion budgets in the face of illegal downloading and ripping of music. zipDJ allows record labels to streamline their releases and eliminates the need for costly vinyl and CD manufacturing. zipDJ is a legal DJ download service that is fully licensed by the Audio and Visual Licensing Association (AVLA). The copyrighted tracks that zipDJ distributes are fully cleared for digital distribution. On zipDJ, DJs can legally download tracks without the hassle of conducting internet searches.
5. High quality MP3 tracks at your fingertips
zipDJ is an elite DJ download service that provides high quality music files free of viruses, mostly at 320 bit rate. zipDJ provides fast, secure delivery online. You don't have to wait days to download your tracks anymore. All you have to do is register for the service, pay a monthly or quarterly fee, and then download tracks instantly to your desktop. zipDJ's secure server enables you to pay online with peace of mind. Best of all, zipDJ's affordable pricing plan allows you to download an unlimited amount of music for a low monthly or quarterly fee.